Waterfront
This new four-bedroom home was conceived by Corben Architects as a series of interlinked pavilions, terracing over five levels on a headland site overlooking one of Sydney's inner harbours. The pavilions are configured around a central courtyard with a cascading water feature — both elements that re-occur at different levels of the property.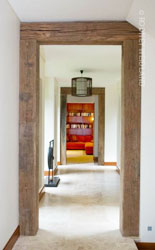 Introduced to the owner by Philip Corben, Babette Hayes worked closely with the client and project architect, Karl Kowalski, to interpret his needs.
"The owner particularly wanted to capture the feeling of a Balinese resort, high in comfort, relaxed in atmosphere. He wanted to make sure that it would not be overly Balinese when it came to furnishing and finishing his home — he emphasised he wanted a house with a relaxed and informal feel".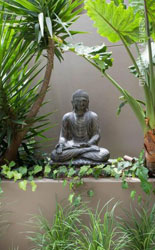 To that end every detail and item selected was run past him, as well as the architect, as we researched and sourced the components that went into the fit out including every aspect of the joinery, designed by Karl, in terms of planning and layout, fine detailing the carved screens and mirrors to be made. Fine tuning included finding the impressive ancient Mongolian village doors and having them adapted for the front door, organising the handcrafted king size bed, selecting the fixtures and fittings, sourcing the natural stones, floor finishes, specialised bathroom items such as the Palazzo bath found in London. Nothing was left to chance, hardware, light fittings, and the colour palette inside and out was all carefully selected to be approved by the client. We then styled and set up the home, when it was completed, ready for him to move in and enjoy the peace and calm he wanted.
This project is featured in the May 2009 issue of House & Garden.
Architect: Mohit Kenny & Philip Corben, Corben Architects 02 9904 1844
Project Architect: Karl Kowalczuk, Corben Architects 02 9904 1844
Photography: Rodney Weidland