Lectures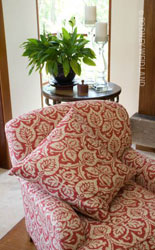 Babette loves sharing information and inspiring others in finding inspiration in their home environment — seeing their home as a place where beauty and harmony can be enjoyed as inspiring and healing spaces.
Over the years Babette has lectured at colleges and schools, given design lectures at conferences and launched new products, lectured for fund raising for the National Trust, Rotary and the Lions Club.
"I love communicating ideas, inspiring others to express their creativity, teaching and encouraging the importance of their surroundings, helping homemakers and students to look for new possibilities, to see with different eyes, and to pass on information — it is all part of my role as a communicator, designer, lecturer and writer. I like to use my extensive collection of colour images which people find fascinating — I like to open their eyes to new possibilities".