Colour Consultant
Selecting the colour palette that will give you the best possible outcome requires a variety of skills: our ability to interpret and respond to the needs of the client and the project comes from years of practical experience. Discussing ideas, looking at options and asking the questions that will finetune the brief leads to a satisfactory colour outcome. Keeping up-to-date with the latest in colour directions and finishes is important but so is being able to provide a colour palette that will satisfy.
Establishing a coordinated colour scheme includes considering finishes, furnishings, furniture, the space, the architectural and design interaction.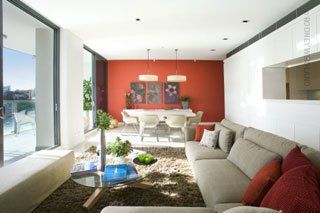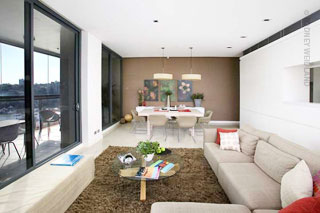 Ultimately what counts is the 'feeling' that is achieved — how does it feel to be in that space, to look at the project as a whole, to experience a sense of well being. This comes from interpreting the needs of the client — be it an individual, a family, an organisation.
What Does a Colour Consultation Involve?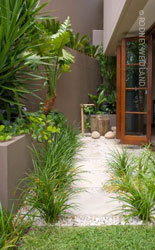 An in-depth meeting takes place at the home, site, office or in our office in Neutral Bay, to discuss the project and determine the desired outcome.
We consider the architectural environment, personality and lifestyle of the occupants, colour preferences to ensure the colours and finishes are appropriate for those using the space.
We then provide a detailed colour schedule with large colour samples — most people don't realise how much a colour will change in different lighting conditions and clients are encouraged to carefully consider the colour samples in light and shadow conditions and in different environments as surrounding greenery, the colour of an neighbouring building, floor finishes etc will bounce and reflect their hues and have an affect on the colours.
Selecting the Colour Palette for One Room or an Entire Home or Office Can Extend to Choosing:
Paint colours and finishes inside and out: rough, smooth, gloss, satin, renders, milk wash and specialist textures including glazing and stucco, low VOCs, environmentally friendly
Wood stains inside and out for: claddings, window frames, timber finishes, floors
Roof finishes and colours, gutters, downpipes, etc.
Floor finishes (all have a huge impact on colour palettes): timber (type of timber) and colour finish such as black japanned, natural oiled, limed oak etc; carpet; natural stone such as travertine, Grigio, basalt, slate, limestone etc; ceramic tiles; carpet; vinyls; cork
Wall papers: exotic Florence Broadhurst, refined grass papers and glorious handprints, etc.
Joinery finishes: paint, polyurethane, laminates for kitchens, bathrooms, living rooms, offices, bedrooms
Benchtops: kitchens, bathrooms, barbecues
Window treatments: Shutters, blinds (rollers, roman, bonded, etc.), curtains, screens
Furnishings: furniture and upholstery fabrics, furniture finishes, mirrors, reframing