Why Use Our Services?
We use our expertise, experience and product knowledge to:
Expand and develop your ideas
Solve problems
Offer solutions unique to the clients needs
Save time, money and frustration
Babette Hayes brings the skills and expertise of both an Interior Designer and an Interior Decorator to your project.
Working closely with you the client we have the skills to identify and accommodate your individual taste and needs.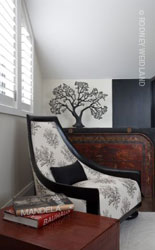 We carefully consider the purpose, efficiency, comfort and aesthetic of the interior spaces of the project to arrive at the optimum design solutions.
In response to your brief we plan, arrange and style the space for effective use with particular emphasis on space allocation, traffic flow, furniture, fixtures, furnishings and surface finishes.
We can custom design or specify furniture, lighting, walls, flooring, colour, fabric and art work to produce an environment to suit your individual needs.
Many of our projects involve working collaboratively with the architect and the client, our role is to ensure that what we put together reflects the clients brief and supports the architectural intent.
You can rely on us to:
Interpret your needs for function, style, comfort and colour
Develop room layouts and maximise available space in an effective and creative way
Work within your budget and give you fully costed quotations before work begins
Recommend appropriate finishes to achieve the effect that you want
Specify furniture, lighting and accessories and, where required, design joinery
Arrange the work required and oversee successful completion
Work with existing furnishings
Liaise with architects, builders and trades people
We want to ensure that your likes and dislikes are evaluated during initial discussions and the project brief reflects your requirements. This is a partnership, one based on mutual trust and our ability as professional's to interpret your needs and reflect your style and taste.
Fees
Whether your budget is large or small, we have the expertise to work within it. The fees are more than offset by what you save in time, hassles and errors. Discussion about fees is essential. It is important to ensure you have a clear understanding of the method of charging before work starts.
Fee structures can be negotiated or a fixed design fee set based on a percentage of the value of the project, or charged on a time basis. Alternatively a quote can be submitted for the cost of the work required.
Babette Hayes MDIA is a full professional member of the Design Institute of Australia (DIA) which means that:
a member has been involved and practising in their field of expertise for more than six full years, in Babette's case more than 30 years
Babette Hayes Design Pty Ltd operates its business in accordance with the DIA's standards of professional behaviour
Babette Hayes Design Pty Ltd has made a commitment to abide by the DIA's strict Code of Conduct
As a member of the DIA we encourage you to visit the website.