Appearances
Exhibition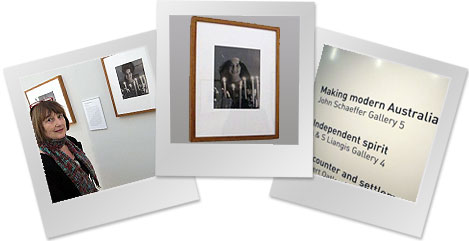 Making Modern Australia
John Schaeffer Gallery 5
Babette Hayes, London 1960s
by Lewis Morley
Gelatine silver print
Gift of the artist 2003
Babette Hayes, interior designer, cookery writer and stylist, was born in Syria to French parents. After design school in England she styled interiors for Good House Keeping and English House & Garden as well as writing cookery columns for Queen magazine and the Telegraph. She moved to Australia in 1964 and has worked for magazines including Australian Home Journal, Belle, Vogue Living and Women's Weekly. During the 1970s, she also published a number of books on interior decoration. Design for Living in Australia (1978) was illustrated with photographs by her friend, Lewis Morley, whose 1971 move to Sydney Hayes had encouraged. Besides her strong contributions to Australian interior design, Hayes was to exert a bracing influence on our food culture. She was the cookery editor for Australian House & Garden and during the 1970s wrote many recipe books, starting with The Captain Cook Book: 200 years of Australian Cooking (1970), which traced the history of such classic local offerings as the carpetbag steak. Several others followed including Barbecue Cooking (1970), Family Fare (1971), Australian Country-Style Cooking (1978) and Babette Hayes Talks About Food (1979). She still lives in Sydney, where she runs a private interior design company.
New Voices
Babette Hayes featured in the exhibition Making Modern Australia at the National Portrait Gallery in Canberrra — New Voices presented portraits of people from all from all walks of life who influenced and enriched the cultural changes taking place in Australia in the latter half of the 20th century.
Television and advertising promoted the ideals of the nuclear family while burgeoning youth culture gave rise to fears of juvenile delinquency. Beach culture gave Australia a hedonistic and physical identity and intellectuals decried Australia's lack of culture, often becoming expatriates.
In the 1960s and 1970s social liberation movements, bohemianism and counter-cultural forces drove cultural and political change. In areas as diverse as business, sport, art and music, Australia's confidence grew and its presence was felt in the international arena.
Radio
James Valentine's Show
In 2006, Babette Hayes talked about interior design on the James Valentine Afternoon Show on Radio 702 ABC. Listeners' contributions were invited.
The talks were aired on:
24 August 2006
5 September 2006
19 September 2006
3 October 2006
17 October 2006
31 October 2006
14 November 2006
28 November 2006
Eastside Radio 89.7FM
Interviewed at length by Sylvia Rosenblum for her Arts on Thursdays program on Eastside Radio, Babette discussed the changes that have taken place since the 1960s in the world of design and home making.
Interview aired on 7 September 2006.
Film
Babette Hayes was interviewed by director Gillian Armstrong and appears in her film Unfolding Florence which was released at the Sydney Film Festival in June of 2006 and was shown in mainstream cinemas. The DVD of this film is now available.