Orbit
An old factory site in Waterloo, close to the city, Orbit was redeveloped and designed by Platino Properties and their architectural team headed by one of the principals, Suddhin Unn.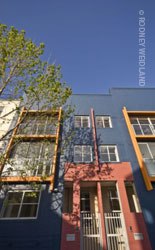 The extensive development provided a range of dwellings, from brand new studio apartments, to two bedroom apartments, two storey garden apartments in the old building together with a street facing row of three storey terrace houses all set under the old sawtooth factory roof. The latter was seen as a positive feature not only because it provided interesting shapes and spatial arrangements within the complex, but also because the skylights let in the gentle south light into the interior.
Light filled, each dwelling has its own private, garden, terrace or deep balcony.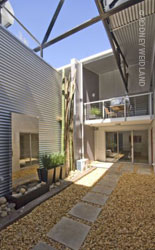 Finishes include galvanised corrugated iron for courtyard walls with a mix of pastel colours reminiscent of the 1920s, for the exterior facades and internal walled courtyards.
Babette Hayes furnished and styled the terrace houses and apartments to suit a range of prospective owners, mostly professionals and single. "The terrace house interiors are a mix of intimate living spaces and soaring ceiling spaces, with mezzanines providing a fourth level where the structure permitted. Old recycled floors boards bring warmth and texture to the elegant counter point of the white walls and ceilings. The furniture and furnishings are informal, colourful, comfortable and flexible. They suit the architect's design intentions as well as the lifestyle of those planning to live here".
Architect: Suddhin Unn principal at Platino Properties 02& 8968 1900 with Project architect Dominic Choy