Azure
Once the Yellow Pages office building, the building was redeveloped, adding two storeys to make it a 12 storey high residential development so as to provide a number of penthouses, numerous 2-3-4 bedroom apartments as well as one bedroom studio apartments.
The developers Platino Properties engaged Smart Design to design the fit out working collaboratively with Platino Properties's architectural team headed by George Revay. Babette Hayes was engaged to work on the colour palette and surfaces finishes with Smart Design and to furnish several display apartments for Platino Properties — all the penthouses as well as some of the smaller 3 bedroom styles. All had balconies, some had extensive terraces.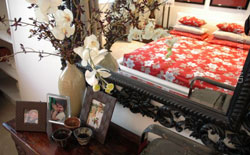 Different contemporary furnishing concepts were designed to provide a variety of exciting interiors to appeal to prospective owners with differing tastes and needs — some would be down sizing, some investing from overseas, some needing a Sydney base while living interstate.
Each apartment had a different layout due to having to accommodate some of the old building structures and services and having to divide the spaces for each apartment accordingly. It was important to select furniture and furnishings, artworks and accessories that would reflect the sleek simplicity of the stylish architectural makeover and make the most of the spaces. Furniture needed to be flexible and adaptable and always look as fresh as new as it would need to be relocated as the apartments were sold. It was also important to give each apartment an individual personality and to style it so as to feel as if some one was actually living there, complete with books, original artworks, and all the associated accessories that makes a home feel lived in.
Architect: Smart Design 02 8332 4333
Platino Properties 02 8968 1900